Manual controls
Axios lever manual controls
Technical features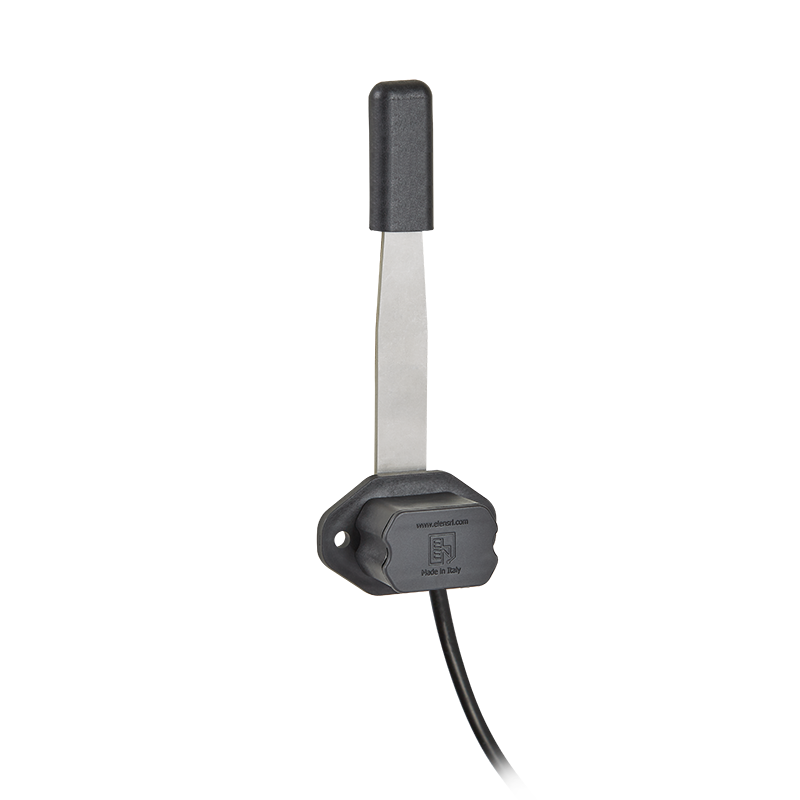 The new Elen Axios electronic lever series is an integrated manual control with a robust and compact mechanical structure.
It is suitable for use on all thermal or electric traction machines, for off-highway applications (agricultural machinery, industrial vehicles, lifting and handling loads, maritime and industrial applications).
The principle of operation is that a Hall sensor integrated in the base detects the field intensity of a magnet integrated with the lever and provides an output proportional to the angle of rotation.
In addition to being an extremely versatile and easy to use product, the Axios lever is designed to be an integrated, alternative and interchangeable product with other existing solutions on the market.
PROGRAMMABLE ELECTRONICS
- Supply voltage: 5 V; 10-30V
- Output signal: single, double, voltage, current, PWM and CAN BUS (SAE J1939)
- Configurable output (for each channel) in the ranges: 0-5V, 0-10V , 4-20mA, % duty cycle and CAN message
MECHANICS
- Frictional control
- Compact solution
- Plastic base and metal lever
- Mechanical stroke: 60° (±30°)
- Lever and knob customizable
- Variant with or without return available
- Cable length and connector customizable
RELIABILITY
- Contactless Hall effect
- Output and IVS managed by the firmware, without contact switches or manual calibrations
- IP67 protection rating
- Infinite life cycle thanks to the magnetic return system
- Immunity to vibrations and electromagnetic disturbances
- Operating temperature: -40°/+85°
- Protection against reverse polarity to avoid damage to the accelerator if connected in incorrect way
FUNCTIONAL SAFETY
- Signal redundancy thanks to the integration of isolated and galvanically distinct circuits (double output version)
Mechanical configurations
The Axios lever is available in a standard version with a 170mm bracket length; the knob and bracket are configurable and adaptable elements based on specific needs.
Cable and connector
customizable
Output
voltage, current, PWM and CAN BUS (SAE J1939)
Number of signals
single/double
Cylinder material
Plastic base and metal lever
Applications
The Axios series lever is used to accelerate the engine (with return), regulate the engine speed and control the hydraulic pump.